Equality, Equity and Diversity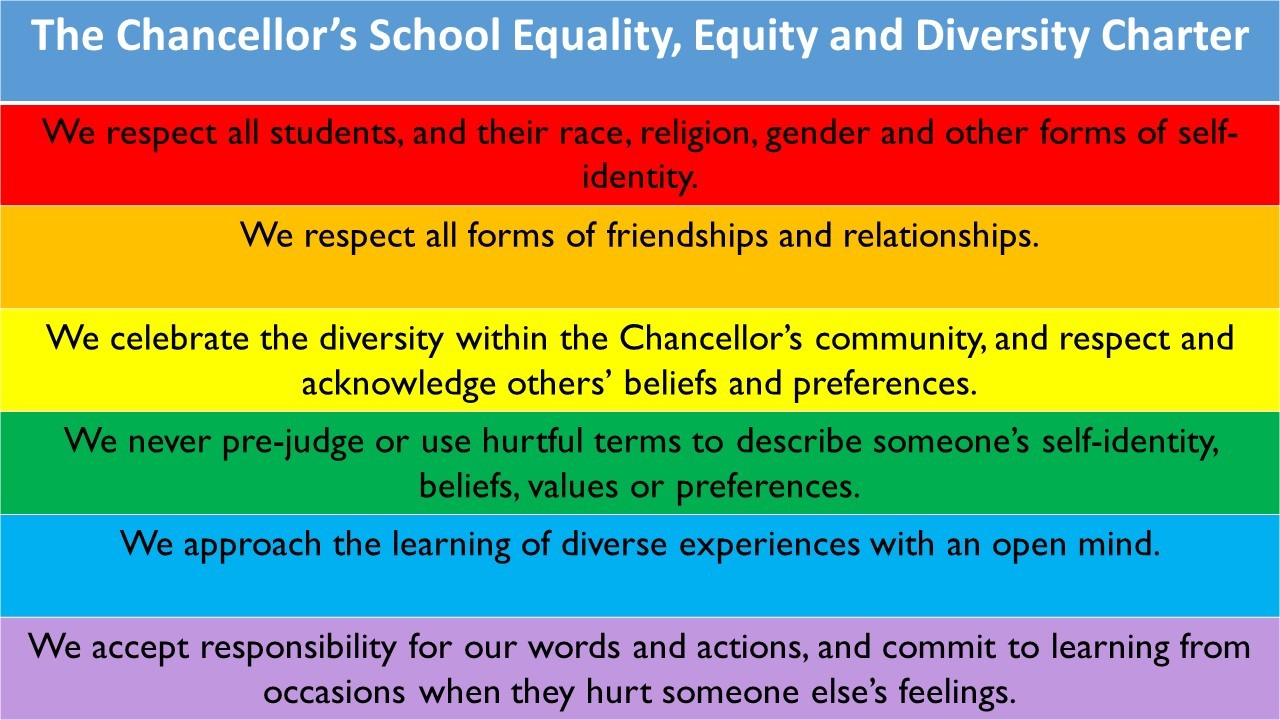 The Equality, Equity and Diversity working party (EED) at Chancellor's is committed to enact change across our entire school community. It is open to staff and students who work collaboratively to try and improve the lived experience of all. This is done by raising awareness across several different platforms of issues to do with race, gender, sexuality and disability in order to promote a school-wide culture of respect.
As a group, we have successfully promoted the celebration of different aspects of our school diversity through displays around school, form time activities, weekly lock screens, library reading recommendations, newsletters and bulletin articles. Subject Leads have also participated in auditing their subject for diverse representation and highlighted planned adaptations to schemes of work, recommended reading etc. Black History Month in October and LGBT+ History month in February served as opportunities to improve our community's race and gender literacy, while whole school surveys have helped us to understand the day-to-day challenges that different members of our school community face in relation to race as well as sexual harassment. Results of these were fed back to both students and staff alongside measures put it place to address highlighted issues.
Our next phase of work is building on these strong foundations to establish a robust and resilient EED legacy across the school. Our brilliant students created an 'EED Charter' to outline our expectations of a rights respecting community to be signed and observed by anyone belonging to or joining our school. EED issues will continue to be a focus of form time activities and assemblies. Arising issues will continue to be addressed through PSHE lessons as well as guest speaker events. We will continue to challenge our Subject Leads, as they reflect on their curriculum planning, to identify where they can fully embed creators, perspectives, content and visuals in their schemes of learning.
The EED working party will meet on the following dates across 2023/24 as per the calendar:
Tuesday 26th September 2023
Tuesday 16th January 2024
Tuesday 23rd April 2024
This is an ever-evolving programme, that can and should be enriched and enhanced and with a fantastically committed team of students and staff on board, we can be confident that we are continuously making a tangible and sustainable difference.
Miss E Hutson, Head of PSHE