Chancellor's School Curriculum Vision
Chancellor's School is proud to be a member of the Danes Educational Trust.
Our School's purpose and vision is drawn from the Trust's statement of curriculum intent.
Our curriculum encourages our learners to be active, creative and curious.
Our curriculum is broad, balanced, inter-connected and provides support, development and challenge for all.
Our curriculum enables our learners to become successful, adaptable leaders who make the difference in the wider world.
The purpose of the School Curriculum is to develop students of great character and expertise, who are equipped intellectually, socially and personally to achieve and thrive in a rapidly changing world. Our students will enjoy life and embrace its many challenges with rigour and positivity. They will possess all the knowledge, understanding and skills to positively contribute and excel academically, in work and in the wider society.
We will do this through high expectations and challenge, creating webs of interconnected ideas and developing the knowledge and skills to address and solve problems logically and thoughtfully, and by focusing on shaping our students holistically so they develop into fully-formed, resilient and thriving individuals.
Our curriculum is therefore carefully constructed with the intent of shaping the whole individual in line with the values of our school and trust. We implement our intentions with academic content underpinned by outstanding classroom pedagogy and a sense of the holistic needs of the child as they grow into capable and successful young adults. We see the impact of our provision not only in excellent intellectual outcomes but in our students' outstanding personal and social development.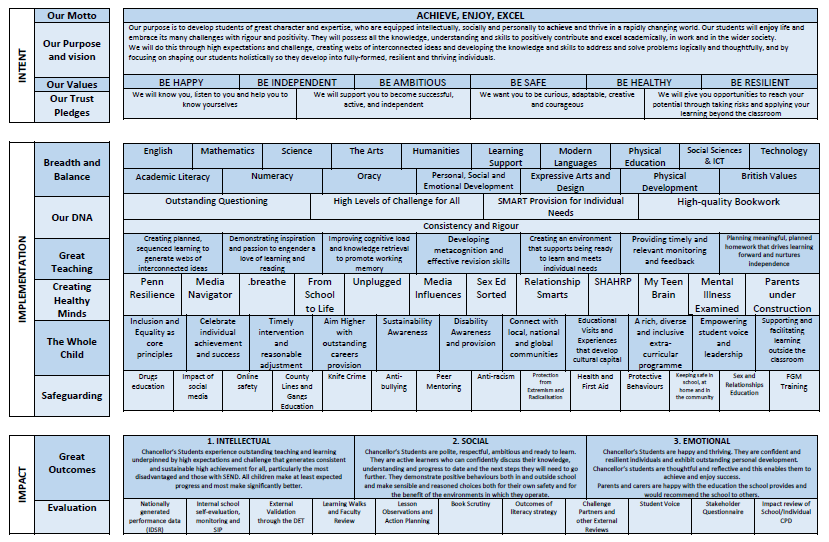 We warmly invite you to explore our curriculum on the following pages. If you have any questions about the Chancellor's School Curriculum or would like to visit our school please do not hesitate to get in touch with the school at: