Our School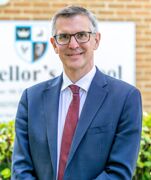 Welcome to Chancellor's, which is part of the Danes Educational Trust.
I hope you will enjoy browsing the website and finding out about our school.
Educating children is both a responsibility and a privilege. At Chancellor's School,
we take our responsibility very seriously. We want our students to love school,
yet be ready to leave and well prepared for the future. We want them to have achieved excellent examination results, been involved in a wide range of activities, forged lifelong friendships and, above all, have happy memories of their school days.
Chancellor's has a strong tradition and an excellent reputation for providing the very best education for its students. We aim to equip our young people with a breadth of skills and qualifications, as well as confidence and a natural curiosity that promotes happiness and success, both here at school and beyond. We want students to develop an enjoyment of learning and a desire to learn that will stay with them for life. We are unashamed in the importance we place on our academic results and this is matched by a rich extra-curricular provision. Our sport, music, drama and other activities are of the highest quality.
Our teaching and learning is challenging and engaging for each and every child's unique needs and talents.
We firmly believe in the highest standards of behaviour and nurture positive and purposeful relationships, founded on respect and self-responsibility. We want our students to acquire strong beliefs and values so that when he or she leaves our school, parents can be justifiably proud of not only what their child has achieved,
but also by the sort of person that he or she has become.
This website will give you just a flavour of what we have to offer. For those of you considering an application
to the school, there is no better way to judge a school than to come and visit. I hope you will do so and I look forward to welcoming you.
David Croston
Headteacher