Careers
Careers Provision
Careers Lead
Mrs Antwi - Careers Lead
Telephone: 01707 650702 ext 2274
Email: antwis@chancellors.herts.sch.uk
At Chancellor's, our careers programme is embedded into all stages of a student's academic journey. We work in accordance with the Gatsby Benchmarks and aim to give all of our students the best possible chance to succeed in their future careers.
The majority of our students choose to follow the route of Sixth Form before moving onto Higher Education, with many of those applying to university looking to attend a Russell Group institution. However, there are many different paths into the world of work and we ensure that we prepare all students for their next steps. Apprenticeships, Degree Apprenticeships and Further Education at local colleges all feature within the programme for Careers provision at Chancellor's.
The Gatsby Benchmarks
The purpose of the Gatsby Benchmarks was to help students to look beyond the classroom and understand enough about the work of work to know what skills they would need to succeed. Good career guidance, according to the Benchmarks, helps students to make informed decisions about their futures. At Chancellor's we fully embrace this approach to careers guidance. Further detail can be found here Good Career Guidance - The Benchmarks
Who we work with:
Services For Young People
We work closely with Services for Young People to provide all students with personalised careers guidance.
Services for Young People provides youth work projects and programmes, information, advice, guidance, work related learning, outdoor education and support for young people aged 13-19 (to 24 for young people with learning disabilities).
For young people leaving care, support is provided to the age of 21.
A Personal Adviser is available for appointments at school every Wednesday for impartial information, advice and guidance, supporting futures, options and next steps.
Appointments can be requested via Form Tutors or Head of Year.
Drop in sessions are also available on a Wednesday lunchtime.
Services for Young People also assist us with our work experience provision for Year 10 and Sixth Form students. Further information and the Own Placement Form can be found here:
The Careers and Enterprise Company
The Enterprise Adviser Network Programme is managed locally by Hertfordshire Local Enterprise Partnership to support us to achieve all 8 Gatsby Benchmarks. We are lucky enough to have been matched with the NHS and meetings take place on a regular basis to discuss progress.
Further information about The Careers and Enterprise Company can be found here: Careers and Enterprise
Local Labour Market Information
Hertfordshire is a fantastic county full of opportunity. Many large and international businesses such as Tesco, Roche and GSK are based in the county. Through our connection with the Careers and Enterprise Company, we promote these links among our students. Look out for updates via email and the parent bulletin.
Living and Working in Welwyn Hatfield
Unifrog
All students in Year 8 and above will have access to a Unifrog account. It is a helpful platform that brings together student achievements and guides them into making the best choices for their future. It is also used extensively in Sixth Form to track progress and submit the strongest applications.
https://www.unifrog.org/sign-in
Careers Programme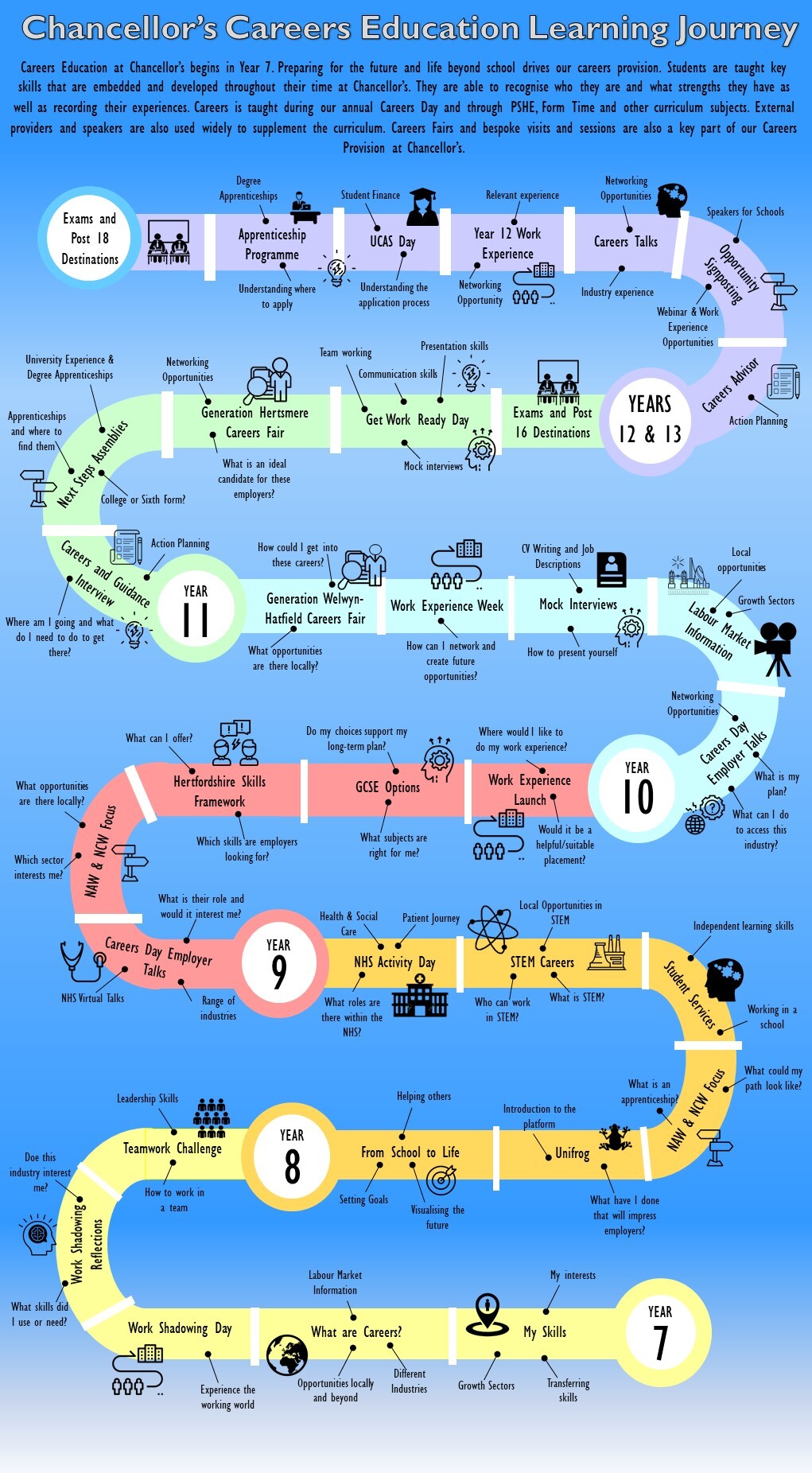 Feedback from parents, students and other stakeholders is very welcome. Please email admin@chancellors.herts.sch.uk, providing a subject title of 'Careers Feedback'.
We send detailed surveys to students, parents and staff annually to evaluate the effectiveness of our careers provision and take all feedback on board in an effort to constantly improve.
The school's next review of the information published is February 2025.
Useful Links
Sixth Form - Work Experience Template Email
Careers Planning
www.hopinto.co.uk - Employment and other opportunities in Hertfordshire
www.icould.com - Short videos of people in work
www.careersbox.co.uk - Short videos of people in work
www.stepintothenhs.nhs.uk - Information about careers in the NHS
www.sentinus.co.uk/stemcareers - Careers in science and maths
www.futuremorph.org - Careers in science and maths
www.getintoteaching.education.gov.uk - Careers in education
nationalcareers.service.gov.uk - Careers information and research tool
www.nationalcareers.service.gov.uk/home - Careers information and research tool
www.allaboutcareers.com - Careers information and research tool
University
www.ucas.com - University research tool and applications
www.russelgroup.ac.uk - Top 24 Universities in the UK
www.gov.uk/student-finance - Student Finance information
www.herts.ac.uk - University of Hertfordshire
Apprenticeships
www.apprenticeships.gov.uk - Apprenticeship information
www.findapprenticeship.service.gov.uk - Apprenticeship research and application
www.amazingapprenticeships.com - Apprenticeship information and talks
Parent Guide to Apprenticeships
Apprenticeship Information - Parent Pack
Local Colleges
www.oaklands.ac.uk - Oaklands College
www.hrc.ac.uk - Hertford Regional College
T Levels
Policies