Chancellor's School DNA
The school has a very clear vision of what an effective learning environment looks like. We call this our Chancellor's DNA.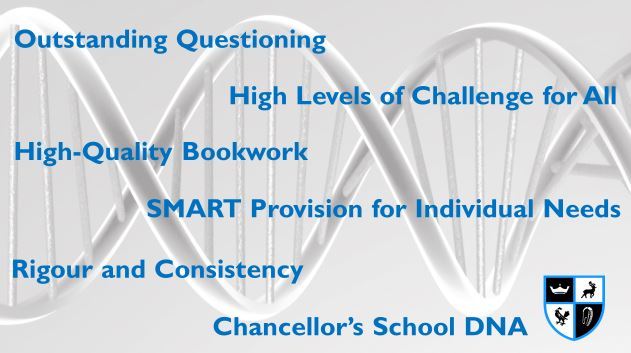 Outstanding Questioning
All questioning should:
Cause thinking
Provide data that informs teaching
At Chancellor's School we believe that our students should be active learners and we therefore promote a 'no hands-up' policy in lessons, unless a student wishes to ask a pertinent question. Questions are planned carefully by the teacher and targeted directly at learners, ensuring consistently high levels of engagement and challenge are a feature of every lesson.
High Levels of Challenge for All
Chancellor's School firmly believes that a rising tide lifts all ships. Excellent educational outcomes are achieved by pitching learning at a challenging level for all learners, in other words we aim high in all our learning. For this reason skilled teaching will differentiate learning downwards only as a means of enabling all students to raise their expectations and aspirations to the very highest level. All student work must be completed to the highest standard and demonstrate high levels of effort and commitment. If work is not completed to this high standard then there is a high likelihood that a student will be asked to complete the work again.
High Quality Bookwork
We firmly believe that students should take pride in the work they complete and in how they present their work. Establishing effective working habits and developing a sense of joy in a job well done are critical to developing successful individuals. We want all our students therefore to adopt a growth mindset and to aim to put great effort into everything they do. There is no such thing as 'doing your best' as you can always improve and get better. This does not mean we are expecting a great quantity of work but we do wish to see high quality work. In response we pledge to make our support and feedback relevant and timely to enable you to make rapid progress.
SMART Provision for Individual Needs
At Chancellor's School we recognise that every single student is different and has a diverse background and needs. Whilst demanding high quality from our students we believe it is vitally important to be a caring and adaptable school. For this reason we ask all our teachers and staff to plan to accommodate individual needs into their planning. If we need to make provision to allow you to excel, we will endeavour to put that in place and reflect on the effectiveness of the support we provide.
Rigour and Consistency
Success in learning is the result of the outstanding teaching a student receives, and also the effort and commitment that student brings to their learning and the help and support provided at home. At Chancellor's School we are fully committed to our school DNA and we expect a student's school experience to be challenging and consistent IN EVERY LESSON. We are committed to listening and learning from our students through student voice and establishing a learning dialogue. We equally ask and expect our students and parents to uphold their role in developing successful learners.
Ready to Learn
Alongside our high expectations of challenge we fully expect all our students to be ready to learn so that they can operate at 'peak flow.' This means that we will help our students to develop their metacognition and management of their cognitive load. This will mean we expect every student to arrive on time to every lesson, fully equipped, fully switched on and prepared to work hard and to contribute positively to their own and others' learning. It is a normal expectation for segments of lessons to be conducted in complete silence to ensure full concentration and commitment to tasks. Failure to meet these expectations will result in sanctions being applied.